On this page, we take a look at some of the innovative building techniques used by the Romans...
Self supporting arches
The Romans had a great liking for arches and made use of them in as many different buildings as possible. They were the first builders in Europe, perhaps the first in the world, to fully to appreciate the advantages of the arch, the vault and the dome. The Romans introduced stone arch technology over two thousand years ago. They applied to bridges they constructed across the known world and examples can still be seen today. The technology they used has stood the test of time and some Roman construction methods are still used today. The arch is an prime example of Roman technology that is still used world wide even though modern materials are now used.
They were mainly constructed by placing individual tapered blocks together in such a manner that they pushed against one another and generally did not need any cement or bonding material between them.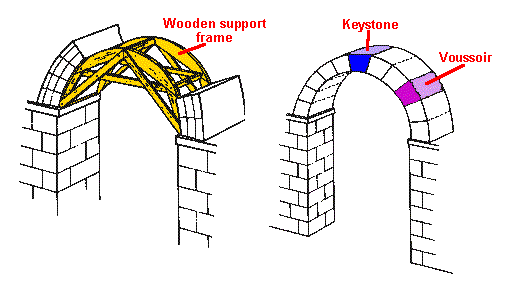 Firstly a wooden frame known as a centre or centring was built that spanned the gap where the arch would be, and it was shaped in the same arc of the arch. Then the separate stones (voussoirs) were laid from the edges, until only one stone remained to be laid. This was the keystone and it was this one that gave the arch it's strength and rigidity. The frame was then removed and the arch left standing. Roman builders did not really understand the laws of physics that or what made an arch not this wasn't not fully understood until the 18th century; yet the Etruscans, and after them the Romans, developed empirical methods for designing arches which still stand more than 2,000 years later. You don't need to be an engineer and kow the theory to build things, you just need to know how to do it.
Roman Roof Construction
How imbrices and tegulae actually fitted together
Ancient Roman tiled roofing is often found in large quantities on archaeological digs of Roman buildings but it is sometimes difficult to imagine what the terracotta fragments looked like when they were all still in situ covering a roman house.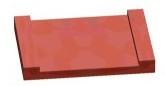 We generally find two shapes of roof tile and we call these tegulae (singular is tegula) and imbrices (singular is imbrex).
Tegulae are flat oblong tiles with raised sides.

Imbrices are half pipes, slightly enlarged at one end.
They fit together so that a tegula always slightly overlaps the one below it and on each side the gaps between the tegulae are covered by the imbraces. This is very similar to tiled roof construction still in use in many parts of the world today.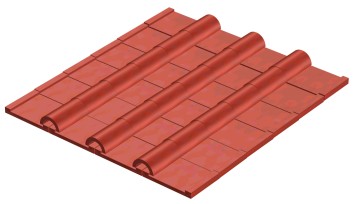 Much of the housing stock of Europe and North America is still covered in tiles that follow this ancient Roman design pretty closely. Next time you are out and about, see if you can spot some modern Tegulae and Imbrices. Being from Southern California, these kinds of roofs are quite common there and a person living almost 2000 years ago would instantly find this style familiar. Even the colour is the same!