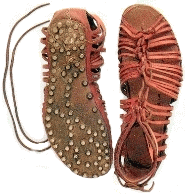 When first looking upon the Caligae, it is difficult to see how such a flimsy piece of footwear could have been so beneficial to the Roman soldier. It does not offer much in the way of protection and does not give the impression of being very sturdy when going over rough terrain.
However, as with all things Roman, the design of the caligae was meant to be functional in many ways.
The openess of the caligae enabled the soldier to wear them all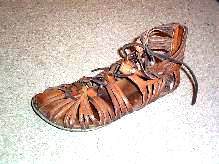 day, to work, march, stand in them for long periods without discomfort. The leather strips were made so that they did not rub against certain parts fo the feet and so cause sores. When a soldier had been on a march of 25 miles, which was commonplace, he would have aching feet but no blisters. He could remove his caligae and dip his bare feet into the nearest river to cool them off, washing away the aches of the day. He was then refreshed and ready to continue.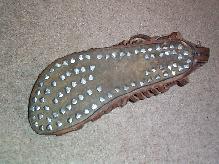 The underside of the caligae was fitted with studs that the soldier had to buy himself, they were not supplied by the army. Not only would they protect his feet over rough ground, but they also enabled him to use them in battle to stamp on fallen enemy warriors as his unit advanced into the opponent hordes.
This was effective as the Roman unit was at least ten rows deep, so any fallen enemy would probably have been severly injured, or dead, soon after falling in front of the Roman advance.