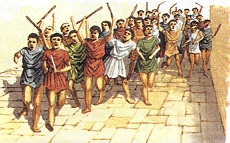 Okay, so you've clicked something and wound up here. That sucks!!
And, if you have found yourself at this page, it IS
because you did get an error... WE HATE THAT ;-0
The thing is, unless you tell us, often we won't find the error (R.i.B. is kinda big ya know), so PLEASE, bring any errors to our attention! If you don't tell us, it ain't gonna get fixed... ;-(
Oh yeah, when I say please tell us, you sorta need to tell us WHERE and WHAT the error was and where you were trying to go to or look at -- we're not clairvoyant!
Click here to e-mail us w/ an error you've found!
Yeah, like if the site is broken or doesn't work, PLEASE e-mail and let us know. We might be out of town or on vacation. Speed is of the essence when fixing things....
Thanks!!! The Staff