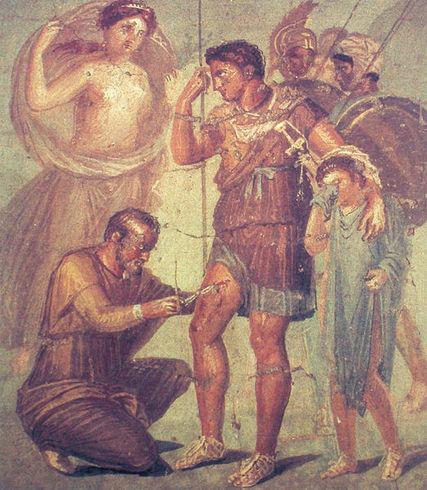 Doctors themselves were basically craftsmen, like any other profession. Early on the profession was mainly one of trial and error with apprenticeships to pass on the art, but later, medical schools were established to make the field more widely uniform. While medicine in the civilian sector was highly dependent on 'doctors' of widely ranging skills and education, the legions had the benefit of highly experienced medical personnel. Civilian doctors were mostly Greeks, many of whom were socially low slaves or freedmen, with a few more prominent individuals who served the upper classes. While the practice of medicine was widely diverse for the common people, the legions had access to surgeons and hospital facilities that were far better than anything available after the fall of the empire.
Despite the reliance on a mystical approach to healing, Roman society maintained reasonably good health throughout its history. The exhaustive use of aqueducts and fresh running water, including toilets and sewer systems, prevented the proliferation of many standing water based diseases, and also washed away wastes away from heavily populated areas. Excellent hygiene and food supply also played a prominent role. The Roman baths were an integral part of society, in all social classes, and regular cleansing helped fight germs and bacteria. The Romans also tried, whenever practical, to boil medical tools and prevent using them on more than one patient without cleansing.
Treatment of medical complaints
The advanced medicines we have today were nothing like those available 2000 years ago. Plants, tree bark and herbs were the doctor's basic ingredients the medicines of Roman times.
Here are a few recommended cures for everyday conditions.
Asthma - drink garlic in milk
Stomach problems - gargle with a solution of water and mustard.
Chilblains - apply a poultice of hot turnips
Scurvy - apply an ointment made from dock leaves and herbs.
Runny eyes - rub with a lotion made from vinegar.
From this list, it looks as though the some of the cures were worse than the complaint
Surgery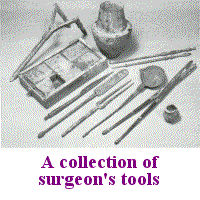 There were many types of surgery known to the Romans and many types of instrument. The lifestyle of many people led to problems requiring surgery. In the pastime of hunting wild animals, a fall from a horse would result in broken limbs or severe wounds. Farmers and those who owned a business that was a hazardous occupation, such as a blacksmith were commonly in need of treatment for wounds sustained in the course of their work. Minor cuts would be treated with compresses made from vinegar.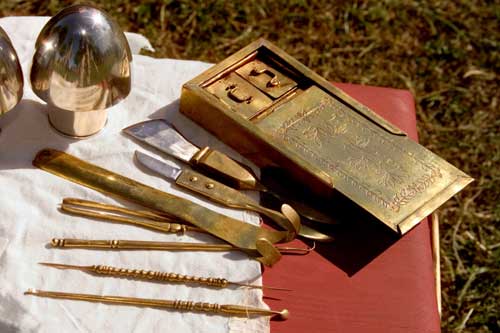 The tools of the surgeon bear a certain resemblance to our current day instruments. Forceps, syringes, scalpels, bone saws. These were made by specialist manufacturers that could meet the fine tolerances and sharpness required for the surgeon's implements.


One doctor buried in Wroxeter had his instruments placed alongside him in his coffin, so aiding archaeologists in identifying individual items.