Chopped Olives and Spices
(Epitryum)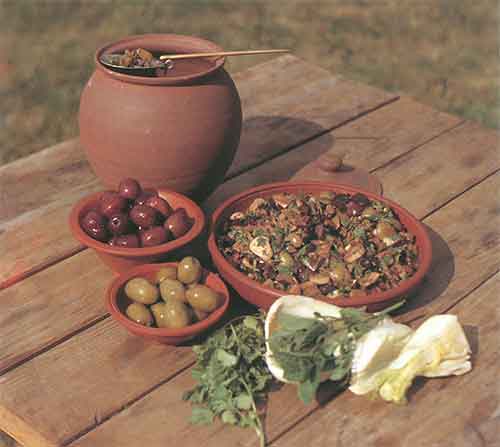 Cato, de re Agricultura 119
Chopped pitted green and black olives with fennel, coriander, mint, and cumin
Original recipe: Epityrum album nigrum variumque sic facito. Ex oleis albis nigris variisque nuculeos eicito. Sic condito. Concidito ipsas, addito oleum, acetum, coriandrum, cuminum, feniculum, rutam, mentam. In orculam condito, oleum supra siet. Ita utito.
Translation:
Ingredients
½ lb pitted green olives
½ lb pitted black olives
¼ cup olive oil
3 Tbsp. red wine vinegar
fennel bulb and leaves
fresh coriander leaves and mint
cumin
rue
Preparation
Coarsely chop the pitted olives and finely chop the fennel and herbs and place in clay pot.
Add olive oil and vinegar and let the mixture marinate for 1 day.
Before serving add the cumin and rue carefully so that it does not overpower the flavor of the other ingredients.