Recipe for
In cervum assum
iura ferventia
(Marinated venison saddle
in prune sauce)
Apicius 346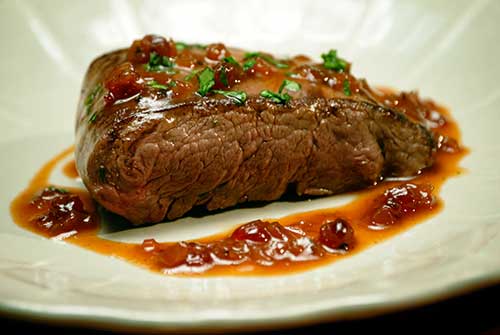 Because most venison is from the wild, there is an intensity of flavour and firmness of meat that makes it a very tasty option. Overcooking venison should be avoided, as it is a meat almost devoid of fat and a marinade that includes oil is essential when cooking the leaner cuts.
Original recipe: In cervum assum iura ferventia: Piper, ligusticum, petroselinum, damascena macerata, vinum, mel, acetum, liquamen, oleum modice. Agitabis porro et satueia.
Translation: A heated sauce for roasted deer: Pepper, lovage, parsley, soaked damsons, wine, honey, vinegar, garum, and a bit of oil. Stir with leek and savory.
Ingredients
4½ lb. (2 kg.) venison saddle
2 cups red wine
1 T. garum
10 peppercorns
5-6 bay berries
1 T. total, savory and lovage
10 oz. (300 g.) pitted prunes, plumped in wine
pinch of pepper
1 T. total, parsley and lovage
1 cup red wine
1 T. honey
1 T. garum
1 T. olive oil
1 T. vinegar
1 small tender leek
1 bunch fresh savory
Preparation
The sauce is an excellent accompaniment for either roasted saddle or leg of venison. I have chosen the version using the saddle, which you can prepare thus:
Make a marinade of the ingredients listed above and heat for around 10 minutes.
Put the saddle in a casserole and pour the marinade over it.
Cover securely and refrigerate for 2 days, turning the meat regularly so that it marinates uniformly.
Remove the meat, put it in a clean casserole and roast in a moderately hot oven (350°F.) for 90 minutes, moistening occasionally with the marinade.
Prepare the sauce by mixing and heating the ingredients listed. Regarding the suggestion to stir the sauce with leek and savory, you can simply tie them into a bouquet, add it to the sauce as it cooks, and remove before serving.
This recipe is also good as a stew. For 4 servings, you can marinate 1¾ pounds (800 grams) of boned venison for 12 hours, then cook it in the sauce. Add the prunes only when the meat is half done. Total cooking time depends upon the cut of meat; ask your butcher for advice.