Roman recipes:
Bucellae cum Lacte Caprino
(Goat's milk sauce)
By Anthimus: On Foods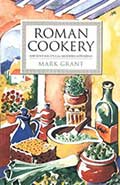 Yeah, go ahead and click
here
to buy this book!
Roman Cookery
: Ancient Recipes for Modern Kitchens
This recipe is a good complement for veg like celery and carrots. It could also be describbed as a "bread sauce."
AFAIK, this recipe comes from Grant and was inserted by original site author (have I not said to buy these author's books? Please do so and support them.... Hopefully, I will not get a nasty letter about this)...
Original recipe:
Translation: This is prepared with round stones that are heated in the fire until glowing and then plunged into the milk without any fire. When the milk boils, remove the stones and put into the milk pieces of finely chopped white bread that has been baked and well leavened. Let this cook slowly on the stove, but in an earthenware rather than a bronze pot. When this has been boiled after the bread has been added, let it be eaten with a spoon. For it is better eaten like this, since the dish gives nourishment; but if plain milk is drunk, it passes straight through and lingers hardly at all in the body.
Ingredients
250 ml/9floz goat's milk
100g/3 oz white bread
Preparation
Pour the milk into a saucepan.
Remove the crust from the bread and dut the remainder into small pieces.
Boil the milk and bread together for about 40 minutes or until the mixture thickens so that it resembles double cream.
Put the resulting mixture to a food-processor and blend until smooth.
Pour the mixture into a bowl and place in the fridge for about an hour.
Serve chilled as a dip.