Recipe for
Aliter in cervum
assum iura ferventia
(Plum sauce for
roast venison)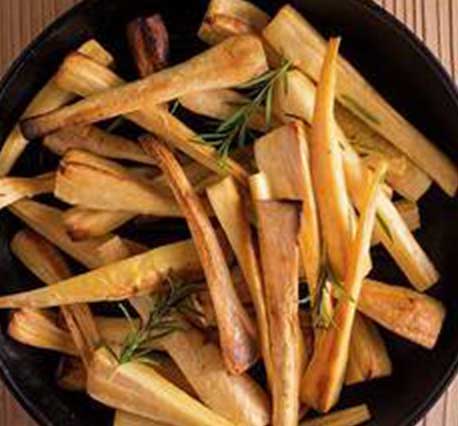 by Apicius VIII, II, 7
Because most venison is from the wild, there is an intensity of flavour and firmness of meat that makes it a very tasty option. Overcooking venison should be avoided, as it is a meat almost devoid of fat and a marinade that includes oil is essential when cooking the leaner cuts.
Original recipe: Piper, ligusticum, petroselinum, damascena macerata, uinum, mel, acetum, liquamen, oleum modice. Agitabis porro et satureia.
Translation: Pepper, lovage, parsley, stewed Damascus prunes, wine, honey, vinegar, broth, a little oil; stir with a fagot of leeks and satury.
Ingredients
A pinch of:
8 oz (225g) dried damsons(damson plums) (soaked overnight)
1 t. (15ml) honey
1 t. (15ml) wine
1 t. (15ml) vinegar
1 tsp (5ml) garum
Olive oil
1 chopped leek
Preparation
Put the pepper, lovage, parsley, damsons, honey, wine, vinegar, garum and a drop of olive oil in a pan and stir them together with the leek.
Cook slowly over a low heat for about 1 hour.
Serve with roast venison.