Roman recipes
Oxyporium (Salad dressing)
by Columella On Agriculture
AFAIK, this recipe comes from Grant and was inserted by original site author (I will say again to PLEASE buy these author's books! By doing so, you will help support them — even for books that are older and might not sell as well anymore... These authors do not do this for money, they do it for love. Please support them!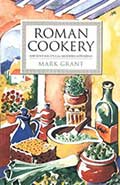 Yeah, go ahead and click
here
to buy this book!
Roman Cookery
: Ancient Recipes for Modern Kitchens.
Yes, this book has a new cover, but I like this one better. Blah, I am so horrible.
In the first-century A.D., the Roman poet Martial sent his friends the following invitation:>
Canius, Cerialis, Flaccus — will you come? My dining couch holds seven — there are six of us — add Lupus. The housekeeper from my farm has brought me laxative mallows and the various resources the garden affords amongst which are lettuce which sits close to the ground and leeks for cutting. Burping mint will not be absent nor the aphrodisiac herb.
Sliced eggs will crown a dish of Spanish mackerel with rue and there will be a moist belly of tuna from the salting barrel. These are the hors d'oeuvres. This little dinner will consist of a single course: a kid snatched from the mouth of a savage wolf, chops which do not need the carver's knife, the workman's broad beans and unsophisticated shoots. To these will be added a chicken and a ham which has already survived three dinners. When you have had enough I will give you mellow apples, wine which was three years old in Frontinus' second consulship, decanted into a Nomantian flagon. In addition there will be jokes without bile, a freedom not to fear the next morning and nothing you would wish unsaid. My guests talk of chariot racing teams and our cups do not put anyone in court. (Book 10, Epigram 48)
There are several recipes for "digestive dressings," so called because certain vegetables like lettuce were thought to cause flatulence and which therefore required measures to render them safe for polite company. These dressings were generally diluted with vinegar.
Original recipe:
Translation: One uncia of lovage, one sextans of skinned raisins, one sextans of dried mint, one quadrans of white or black pepper. To avoid any more expense, these ingredients can be mixed with honey and stored like this.
Ingredients
30g/l oz lovage or celery leaves
½ t. raisins
½ t. dried mint
1 t. ground white pepper
2 T. clear honey
1 T. red wine vinegar
Sea salt (optional)
Preparation
Finely chop the lovage leaves and raisins.
Mix these in a small bowl with the other ingredients.
Stir and serve with a green salad.