Romans in Britain Privacy Policy
Okay, first realize that I/we don't give a tinker's damn about your information and although we might joke about wanting to sell it, if such a thing would buy me a house or new car or something, we won't. The idea of this kind of invasion of privacy is kind of repugnant...
Wanna know why we even HAVE a "privacy policy"? Originally, it was because Google and Amazon.com MADE US do this to have their ads and the Bookstore. Again, WE do not collect your information, we do not give a damn what you do. Google however, does set a cookie... if this causes your panties to get all balled up, read what they have to say here below... and remember, again, WE DON'T COLLECT YOUR INFO. Google does a little. We all have to deal with things in life. Breathe, relax, worry about real stuff.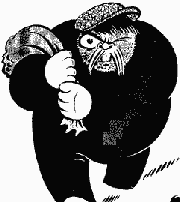 We also have Google Analytics — you can read about it below and set it so that it makes you anonomous... Sadly, the European Union has gotten all draconian and East German-like in this and we might have to actually block visitors from the EU. We're not quite there yet, but if we have to, we will. We also might have to make a "pay wall" for those folks in the EU who don't feel they want to to allow cookies. Please understand, it COSTS money to host the site and do the things we do. Costs. Nothing is free — please remember that. We pay for this with advertising and book sales.
Information about Google and the DoubleClick DART cookie:
Google, as a third party vendor, uses cookies to serve ads on your site.
Google's use of the DART cookie enables it to serve ads to your users based on their visit to your sites and other sites on the Internet.
Users may opt out of the use of the DART cookie by visiting the Google ad and content network privacy policy.
We use third-party advertising companies to serve ads when you visit our website. These companies may use information (not including your name, address, email address, or telephone number) about your visits to this and other websites in order to provide advertisements about goods and services of interest to you. If you would like more information about this practice and to know your choices about not having this information used by these companies, click here.
Google Analytics Addendum
This here website uses Google Analytics, a web analytics service provided by Google, Inc. ("Google"). Google Analytics uses "cookies", which are text files saved on your computer, to help the website analyze how you use the site. The information generated by the cookie about your use of the website will be transmitted to and stored by Google on servers in the United States. If this website anonymizes IP addresses, your IP address will be truncated by Google within a EU member state or other EEA state before being transmitted to the US. Only in exceptional situations will your full IP address be transmitted to Google servers in the United States and truncated there. Google will use this information for the purpose of evaluating your use of the website, compiling reports on website activity for website operators and providing other services relating to website activity and internet usage. Google will not associate your IP address with any other data held by Google. You may refuse the use of cookies by selecting the appropriate settings on your browser, however please note that if you do this you may not be able to use the full functionality of this website and we might end up having to block visitors from addresses in the European Union — that would suck, but we won't be penalized by the evyil EU for trying to give you a good website.
By using this website, you consent to the processing of data about you by Google in the manner and for the purposes set out above. You can also prevent Google from collecting information (including your IP address) via cookies and processing this information by downloading this browser plugin and installing it: http://tools.google.com/dlpage/gaoptout
Further information concerning the terms and conditions of use and data privacy can be found at the Google Analytics Terms of Service or at the Google Analytics Privacy Overview.