Bath — The Roman Baths
About the Roman baths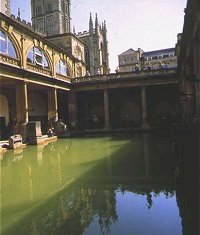 In the city of Bath is one of the most significant finds ever unearthed in Britain, a Bath House that was held in high esteem in the Roman world. This is no ordinary Roman bath site. It is fed today, as it was 2,000 years ago, by natural springs of hot water buried deep beneath the bustling modern day city that is now Bath. Entering the main courtyard of the baths is an experience in itself. You get an idea of the atmosphere as it was in Roman times. This was where everyone from Roman military generals to shopkeepers could mingle freely and converse, play games and relax. Roman baths were also places where ambitious social climbers could meet those who were influential in the Roman world and so help them to move up another step in the ladder of their careers. Traders would display their wares freely in the grounds of the baths. Anything would be available from fresh fruit and snacks, through to fine jewellery.
As is the case with many Bath houses of the time, it was closely linked with a nearby temple. In Bath this was the Temple of Sulis Minerva which served as a worship to the springs. The Romans believed that building temples close to places of importance would bring them good fortune.
Exhibits at the Baths
The King's Bath
This is the heart of the Roman Baths complex. Here expatriate Romans and Roman citizens would mingle and perform the bathing ritual that would often last for many hours. The baths are constantly fed by hot water springs that start their journey from deep within the earth's mantle and emerge at the King's Bath. The waters are forever refreshed from this seemingly never ending mineral charged supply.
The Temple of Sulis Minerva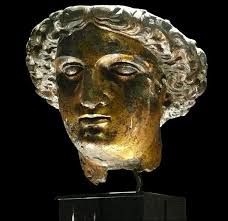 Sulis Minerva was the Romano-Celtic goddess of the springs and it was believed in Roman times that she guarded the baths and made sure they never ran dry. The temple is located beneath the 18th century Pump Room and has many carvings and sculptures that still remain to this day.




The Museum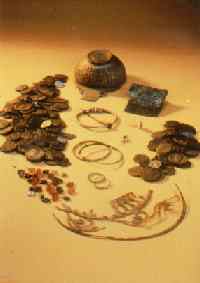 The museum itself has not only artefacts from the Roman period, but also carvings and inscriptions from the classical temple. The lives of the people of Aquae Sulis, as Bath was known in Roman times, is vividly portrayed in sculptures that have been unearthed and restored. The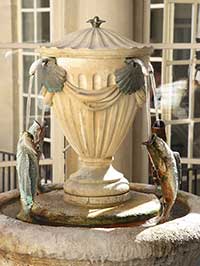 galleries cover every aspect of life from the everyday Roman citizen, through to the religious leaders and the military. To help gain maximum enjoyment from your visit, the museum has made audioguides that are available in six languages.
While visiting the Museum, the Pump Room is an 18th century Georgian salon that is very much the social centre of Bath. Here you can Here you can relax over a cup of coffee, try a glass of spa water that has been drawn from the fountains and enjoy the music of the Pump Room Trio.
Regular activities at the Roman Baths
The Roman Baths have a 'hands on' approach, whereby many of the original artefacts can be handled and examined. In particular, the museum caters for school parties including such activities as:
Finding out more about Roman life
The Temple and Roman baths complex
Religious life during Roman times
Life of women during Roman times
Medicine and health during Roman times
Roman art and architecture
Roman costume and jewellery
Roman technology
Latin lessons - at various levels
The lessons are for British schools with the current curriculum in mind. The Museum tries to tailor talks to specific needs and are happy to discuss any requirements.
They bear in mind the requirements of special needs children and have guides who are trained to help groups with visual and hearing impairments. These sessions need to be booked at least 3 weeks in advance.
Useful information
Facilities
Paid parking nearby
Licensed Restaurant provided
Special facilities for the disabled
Wheelchair access
(Only to terrace and pump room)
Gift shop in museum
Coach parties welcome
Please note the following
Child rates apply to 16 years and under; children under 5 free.
Children under 14 must be accompanied by an adult.
Senior Citizens are men and women 65 and over.
Full Time Students 16+ must have valid ID Cards.
Combined tickets are valid for one week.
Free audio tours are available in 7 languages.
Hourly tours of the Roman Baths and short tours at the Museum of Costume are free.
Personal guides are available for special tours of up to 25 people at a charge of £35.00 per hour.
Group rates apply to 20 or over. Groups must enter en bloc with the leader paying for the whole group.
Advance booking is essential.
Tour Operator vouchers can only be accepted if prior arrangements have been made.
Teachers accompanying school groups of 20 or more are admitted free on condition that they supervise their group throughout their visit in the following ratio:

Up to 11 years: 1 free per 10 children;
12 years upwards: 1 free per 15 children.
Details of special lunch-time facilities for school groups available on request. Advance booking is essential.

Payment is requested on arrival. Visa & MasterCard also Travellers
Cheques with ID are accepted for payment.
Cheques should be made payable to: 'Bath & North East Somerset Council'.
Bath & North East Somerset schools and local residents are admitted free on proof of residence.
Disabled visitors are admitted free to the Terrace overlooking the Great Bath.
Contact:
Roman Baths and Pump Room Abbey Church Yard Bath BA1 1LZ
Tel: 01225 477785
Fax: 01225 477743
Website: www.romanbaths.co.uk
The Roman Baths Gallery