Devizes Wiltshire Heritage Museum
About The Wiltshire Heritage Museum in Devizes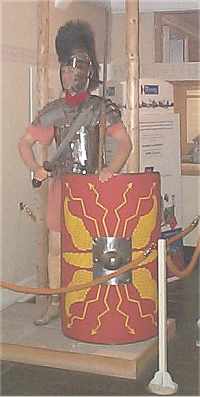 The Roman Gallery describes life in Wiltshire in the period between 43 and about 412 AD when Britain formed a part of the Roman Empire.

The gallery describes the different types of Roman settlement in Wiltshire — the towns (Cunetio, Verlucio, Sorviodunum and Durocornovium), the many villas and country estates (concentrating on that at Littlecote), the native villages on Salisbury Plain and the smaller farmsteads.
There are displays on the Roman army which include a life-sized reconstruction of a Roman legionary loaned by a former member of the Ermine Street Guard; on religion, with emphasis on the religious sites at Nettleton Shrub, Cold Kitchen Hill and Box; on agriculture and on industry, concentrating on the manufacture of pottery at the kiln at Savernake Forest. Other cases describe domestic life in the period, illustrating life in the Roman household, jewellery and other personal possessions, evidence for reading and writing and games which were played by adults and children.
There are many interesting or outstanding objects in the gallery including a fragment of the mosaic from Cherhill, a votive eye made from silver, found at Box and ceramic knuckle bones from Cunetio used for playing an early form of 'five-stones'.
The Roman Collections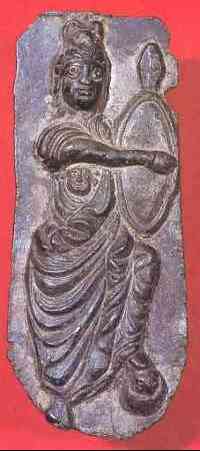 The Roman Collections in the Museum derive chiefly from the excavation of sites in Wiltshire conducted over the past two centuries. These include the finds excavated at the Roman town of Cunetio at Mildenhall and at other important settlements including those at Easton Grey on the Fosse Way and Charlton Down on Salisbury Plain. There are also finds from Roman British villages discovered on Salisbury Plain.
The important finds from a number of excavated villas are present, such as those at Littlecote, Atworth and Bedwyn Brail. Other smaller farmsteads excavated include that at Knap Hill and Overton Down. There are groups of finds from several religious sites including Cold Kitchen Hill, Nettleton, Box, Heywood and Winterbourne Monkton while industrial sites include pottery kilns such as that at Savernake Forest and finds from the Roman lime kiln at Westbury.
Although no certain military sites have been excavated in Wiltshire, the Museum has a good collection of individual casual finds of military objects. The collection of Roman coins is extensive, including a number of hoards, while burial is represented by stone and lead coffins and human remains from a number of small cemeteries.
The collection includes a wide range of casual finds of all types but particularly pottery from most of central and north Wiltshire. It includes a number of private collections including the Roman brooches from Wiltshire from the collection formed by the late Richard Hattatt.
Useful information
Plenty of parking on grass.
Disabled parking: We can offer parking to those with special needs in the car park at the rear of the Museum. If you telephone us in advance on 01380 727369, email hello@wiltshiremuseum.org.uk or contact us via social media on @WiltshireMuseum, we can make sure that this is ready for you. There is also an on-street disabled parking slot close to the front of the Museum but unfortunately we are unable to reserve this in advance.
Service dogs are welcomed.
Contact: