Carlisle Tullie House Museum
About the Tullie House museum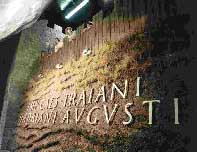 The Tullie House Border Galleries tell the story of the Debatable Lands which are made up of Carlisle, Cumbria and the Borders. The museum has many artefacts which were gathered from the north-west region of the Roman Province of Britannia. It gives a vivid account of the life for the Roman military and the civilians under their control in this remote outpost. There are examples of nearly everything that was used in everyday life from such items as sewing kits to the letters the soldiers would write home to their families.
It is also an interactive museum in that the visitor can experience the thrill of travel by riding the Roman saddle, or wander down a Roman street. For those who are more adventurous, there is the opportunity to try out replicas of the Roman soldiers weapons and artillery. One of the main attractions is the recreated Hadrian's Wall gallery that is built on the site of the original wall that ran through Carlisle. For school parties, there is also the chance to try on Roman costumes.
Useful information
The Museum is fully accessible, with induction loops, automatic doors, ramped access and adapted toilets, apart from the first floor in Old Tullie House and The Guildhall Museum, which are both Grade 1 listed buildings.
We also have special baby changing facilities.
We strive to make sure activities can be enjoyed by people of all ages and abilities. If you have any questions or special requirements, please call 01228 618718.
Space for wheelchair users at some events is limited, so please give us notice if this is required - phone reception on 01228 618718.
Guide and Assistance dogs are welcome — again, please let us know in advance so that a suitable seat can be reserved if attending an event.
Free museum, events and non-participatory workshop admission is available for anyone accompanying a person as a carer. A carer ticket must be obtained from the Tullie House Box Office.
Parking on site can be arranged for adapted vehicles, again please call us on 01228 618718 to reserve a space.
Contact: