Dover
Roman Painted House
About the Roman Painted House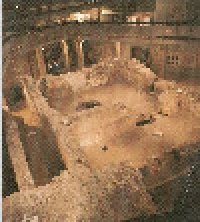 In 1970 The Kent Archaeological Rescue Unit made a find that was to be of significant importance to the Roman history of Britain. It was the discovery of a very well preserved Roman house, complete with many artefacts that were in excellent condition. The house itself was probably a Mansio, an official transit hotel. The Dover town was an extensive site and took the next 22 years to excavate. It was a huge excavation by any standards and the Unit's people removed over 5,800 tons of soil. Enough to fill 580 10 yard lorries! There were in excess of 20,000 fragments of painted walls found inside the building. During the work, a layer of finely worked flint implements that dated back to the Neolithic period of about 2000 BC were found. This indicates that the site itself had be of considerable importance throughout British history. The resultant site is described by the Unit's secretary Edna Philp as "The best preserved Roman town house in Britain."
There are a total of five rooms, very well preserved with walls from 4-8 feet in height. Of special interest are some 400 square feet of in situ finely painted wall plaster. To support the belief that this was a stopping house for those on a journey, the designs in the plaster relate to Bacchus, the God of wine and revelry, both appropriate for weary travelers. There is also a well preserved Hypocaust that shows graphically the famous Roman central heating system. The house was built about 200 AD and over the next 100 years it was extensively altered for both civil and military purposes.
The house has many displays relating to Roman Dover, with over 30 display panels and several cases showing items unearthed during the excavations. There is also brass rubbing, mosaic making and a touch table.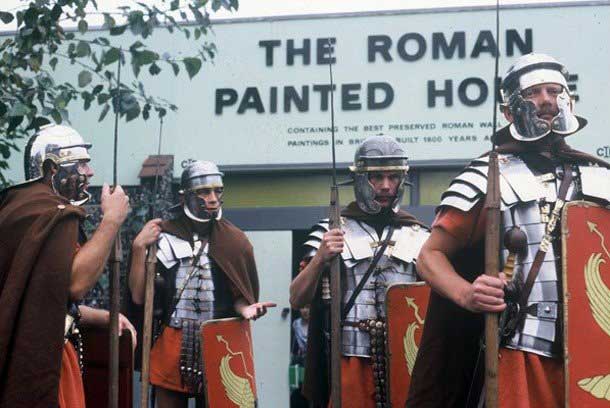 Activities Include:
Handling, drawing and labelling Roman artefacts: each child has a tray of 'finds', including pottery, oyster shells and building materials from the Dover excavations.
'Brass-rubbings' of 14 centimetre high Roman figures to take back to school. These include various ranks of Roman soldiers, Julius Caesar, a Roman marine, the Dover lighthouse (pharos) and a Roman merchant ship.
Mosaic making: each child has a tray of multi-coloured 'tesserae' and Roman patterns to follow.
Sample worksheets can be provided for schools to copy, if these are preferred to one of the above activities.
Touch table of Roman artefacts combined with a visit to the sales desk. Items, mostly under £2.00, include a guide book, postcards, colouring book on Dover and souvenirs.
Useful information
Miscellaneous
Free parking provided
Gift shop in museum
Cafe nearby
Coach parties welcome
Restaurant nearby
Licensed Restaurant/cafe nearby
Wheelchair access (ground floor only)
Contact:
Roman Painted Hous
New Street
Dover
CT17 9AJ
Tel: 01304 203279
Roman painted house gallery
Location of the Roman Painted House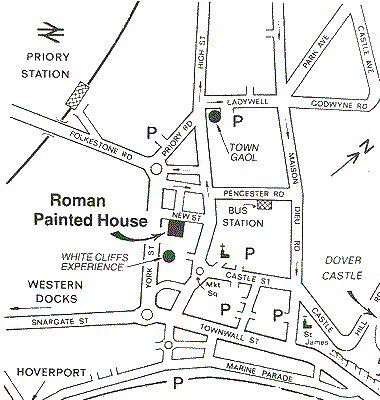 My thanks to Kent Archaeological Rescue Unit
and especially Edna Philp for their help in constructing this page
All photographs used © Kent Archaeological Rescue Unit