Roman Museum, Canterbury
About the Roman Museum, Canterbury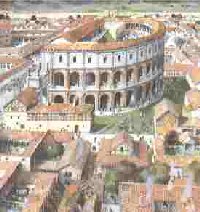 Below the Longmarket Shopping Centre in the heart of Canterbury lies the Canterbury Roman Museum. Here you can start your journey through the history of Roman Canterbury by following the detective work originally carried out by the archaeologists. Passing through the museum, there are many displays where you can learn about Roman life in a Roman city that was one of the first to be established after the Romans invaded Britain in AD43.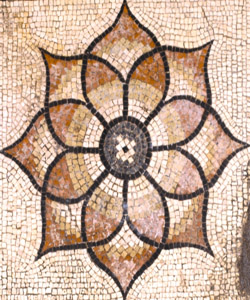 The museum is divided into individual galleries that depict different aspects of Roman life both civil and military. The exhibits are many and varied, ranging from the early Roman town, on through market stalls set out with authentic reconstructions, and on to scenes of everyday Roman life as it was for the inhabitants of Durovernum Cantiacorum as Canterbury was known 2000 years ago.

Moving on through the galleries, there are scenes that enlighten you to the lifestyle of the typical family. The home with the household's shrine to the gods. The lady of the house having her hair styled. The intricate artefacts handcrafted from precious silver and stunning glassware and the murder swords. There is also a 3D animation of Roman Canterbury and it's temple, using the latest archaeological evidence.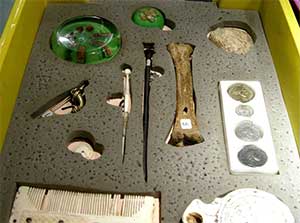 The exhibits move on through the time tunnel and finally show the end of Roman Canterbury and how wartime bombing unearthed a site that had been undisturbed for so long. Here you find the excavated Roman house complete with hypocaust room and stunning mosaic floors. After this you come to the computer show that explains the excavation work and creates an on screen tour of the bath house.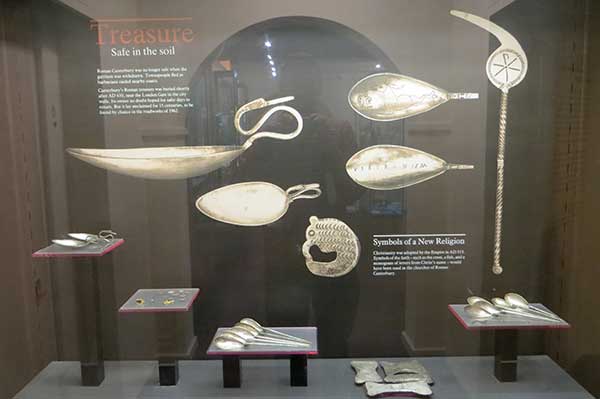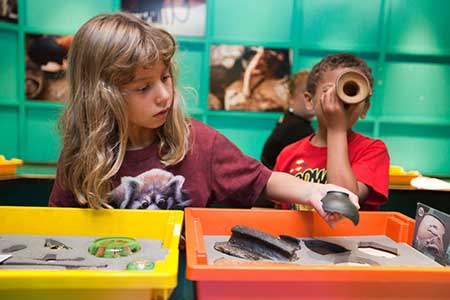 After all this, you'll find yourself in the 'hands on' area where you can touch and handle Roman objects and be an archaeological detective. Also you can create your own magnetic mosaic and for the child in everyone, explore rotten Roman rubbish.
Useful information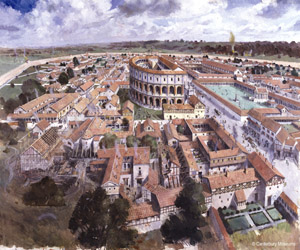 Paid parking nearby
Cafe nearby
Restaurant nearby
Picnic area nearby
Licensed Restaurant/Cafe nearby
Wheelchair access
Disabled toilet
Gift shop in museum
Coach parties welcome
Contact:
Contact address:
Canterbury Museums Office
High Street
Canterbury
CT1 2RA
Tel : 01227 452747 Fax: 01227 455047
Site address and bookings:
Canterbury Roman Museum
Butchery Lane
Longmarket
Canterbury
Tel: 01227 785575 Fax: 01227 455047
Website: www.canterbury-museums.co.uk
Email: museums@canterbury.gov.uk
Our thanks to Canterbury Museum office and especially Marit Hendriks
for their help in constructing this page
All photographs used ©Canterbury Museum