Bignor Roman Villa and Museum
About the Bignor Roman villa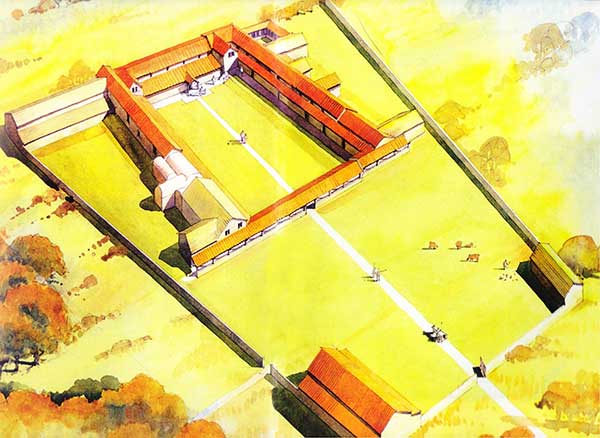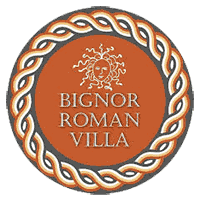 In 1811 a site was unearthed near Arundel, West Sussex that was a Roman Villa rich in Roman mosaics and with a hypocaust. The site has many mosaics depicting Venus, Gladiators, Ganymede and many others. In the north corridor is the 80 ft. long mosaic which is one of the longest in Britain. The museum contains many artefacts that have been found over the years and they tell the story of Bignor villa.
Bignor Roman Villa is the stunning remains of a Roman home and farm with world-class mosaic floors in a spectacular Downland setting.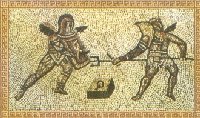 Learn why the Roman owners chose to develop such a magnificent settlement at Bignor in the 3rd Century AD and how they acquired wealth from its location.
Outside the Roman Villa, walk through the beautiful Nyetimber vineyard and explore the endless footpaths and stunning villages in the heart of the newly designated South Downs National Park.
Great info and Pix on these sites
One really good webpage that has some great photos is at the J.J.'s Wargames website. I can tell you that he has some EXCELLENT information and phtos here. Nice guy too!!

Another great place for photos of this site is at the Travel Advisor's webpage for this site located here.
Bignor Villa has an official museum website also, at: http://www.bignorromanvilla.co.uk/ and it has information and such, but not a lt of photos. The Travel Advisor page has a LOT of great photos!!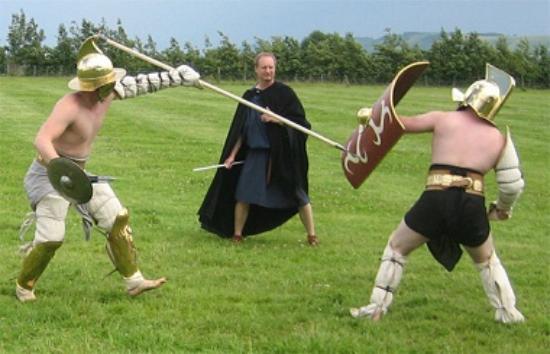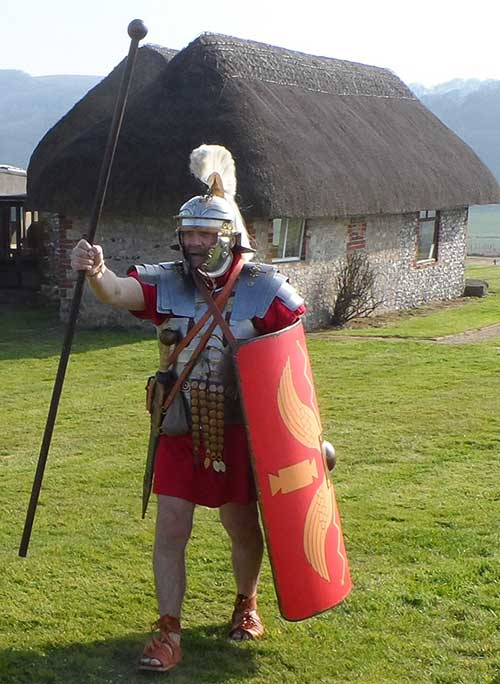 Facilities
Access Statement
Due to the nature of the site, wheelchair access to Bignor Roman Villa and to toilet facilities are limited. However, the management and staff team will do everything they can to ensure that disabled visitors to the Villa are welcome, and have a positive and enjoyable experience.The DDA 2005 recognises the legal requirement to preserve the character of historic and listed building. BRV is listed on two counts, the 2,000 year old Roman mosaics and foundations, plus the 200 year old thatched Georgian building covering the mosaics.

Notes attached to the DDA state that :
"It may be appropriate for a disabled person to have less favourable access to a listed historic building, or site, only if the alternative is to have no access at all."
Unfortunately this is the case at Bignor. We cannot widen Roman doorways, reposition mosaics or level out uneven Roman floors.
We are restricted in any further development, including bringing electricity on site!
We do advise people who telephone in advance re accessibility that we do not have dedicated male and female disabled toilets.

One slightly larger cubicle in the women's toilet has grab rails and a raised arm support. We do offer to close the women's toilets to allow space and privacy when male or female wheelchair users need to use the facility. The door to both the men's and women's toilets are a standard size.
Contact details

Bignor Roman Villa
Bignor
Pulborough
West Sussex
RH20 1PH
UK
Telephone/Fax: 01798 869259
Seasonal Days and Hours of Operation

Open 7 days a week:
1 March - 31 Oct.
March, April & May
10am 5pm
June, July & August
10am 6pm
September & October
10am 5pm

New for 2012: we will be open in November for school and group bookings by prior arrangement only - closed to the public from 31st October.
Admission Prices

Adult

£6.00 -- Group rate: £5.00 (parties of 10 or more)
Senior Citizens
& Students
£4.50 -- Group rate: £4.00 (Parties of 10 or more)
Children
Under 16 years £3.50 -- Group rate: £2.50 (Parties of 10 or more)

Family

£16. (2 adults, 2 children)
Guided Tour
£50.

Introductory talk

£25
Use of workshop
£40
Miscellaneous Information
Museum TeaRoom
Enjoy hot or cold drinks, soup and light snacks above the Roman courtyard with exquisite views of the downs from our large picnic area.

Ganymede Gift Shop
Purchase guidebooks, a range of souvenirs, reproduction artifacts and publications to put your Bignor discoveries into a wider context.